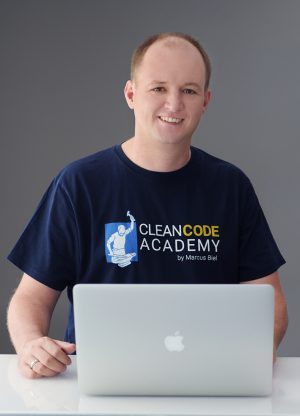 Marcus Biel (@MarcusBiel) is a well known software craftsman, Java influencer and Clean Code Evangelist. He is a regular (keynote) speaker at Java conferences all over the world, e.g. at JBCN Conf Barcelona, JPoint Moscow or JAX London. Besides this, he works as a technical reviewer for renowned Java books such as Effective Java, Core Java SE 9 for the Impatient or Java by Comparison.
In 2015, Marcus started a Java blog and his own Java YouTube channel, where he makes Java accessible to beginners in an entertaining, easily understandable, yet highly advanced way. There are a lot of advanced Java tutorials out there, but good tutorials for beginners are rare. He wants to lay a strong foundation for new Java developers, based clean coding principles.One of the things Marcus tries to impress upon everyone he teaches is the value of communication with the client before and during the programming process. He shows his students that Java is a language that bridges the gap between developer and client.
Marcus quickly became well known and was able to secure many fans and followers. To date, the channel has received over 170,000 views and Marcus has over 70,000 followers across all his social media channels. In 2017, jaxenter.com voted Marcus number 13 of all Java influencers worldwide.
Marcus is an active member of the Java and software craftsmanship communities in Munich as well as a member of iJUG Germany. He's also a full member of the Java Community Process (JCP). In 2018 he was nominated as a candidate for an associate seat of the JCP Executive committee (EC) board.
Marcus worked in various industries like IT, Retail, Finance and Telecommunications and in all areas: Frontend, middleware and backend. In the beginning he developed desktop and mobile applications with Java Swing as well as Java ME, later he focused on server applications such as batch and web services.
Marcus has a degree in computer science from the University of Applied Sciences Augsburg, Germany. He is passionately developing in Java since 2001. At first, he gained experience using various programming languages – like PHP, C++ and Python – but only Java could really convince him, and so he stayed with it! In 2008 Marcus successfully completed his Sun certified Java Programmer 6.0 certification (SCP 6.0), of which, even today, he is still very proud and which has personally brought him a lot to understand Java in depth.
Marcus enjoys programming in Java because of the language's structured rules. He believes that while you can write "quick and dirty" code and deceive yourself that you are saving time and money, doing it properly initially is worth the extra time and effort. Your code will then work reliably and consistently, requiring less maintenance, and proving to be more economical in the long run. So, one of his goals is to highlight the value of writing clean code when working on a project.
When he takes a break from Java, Marcus enjoys being active. He enjoys nature and likes hiking in the Alps as well as backpacking. He also enjoys dancing, a good beer or wine, and adventuring around Munich. Marcus lives in Munich, Germany, with his wife and baby son, within walking distance of the Oktoberfest, and yes, he owns Lederhosen.