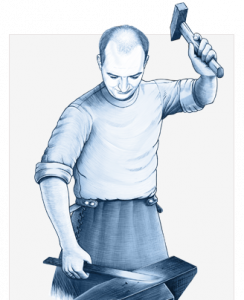 Marcus Biel (@MarcusBiel) is a well known figure in the Java community. He serves as an executive member of the Java community process (JCP) and was named Developer Champion (Groundbreaker Ambassador) by Oracle.
Marcus is a regular speaker at Java conferences all over the world, such as Oracle Code One San Francisco, JavaZone Oslow and JBCN Conf Barcelona. In 2019, he was listed as an "Ubiquitous Gold Speaker" by Heinz Kabutz.
Besides this, he works as a technical reviewer for renowned Java books such as Effective Java, Core Java SE 9 for the Impatient or Java by Comparison.
In 2015, Marcus started a Java blog and YouTube channel that makes Java accessible to passionate developers. There are many advanced tutorials that you can find online, but tutorials with a solid background like this one are rare. Today, the course is also available at freecodecamp.org and received a total of over 1.5 Million views so far. His free ebook "Java for Passionate Developers" was downloaded almost 10.000 times within only 4 months so far.
Marcus has become well-known in the Java community, with a total of 75 000 followers across various social media platforms. In 2017, the editorial team at jaxenter.com rated him #13 in their list of the world's top Java influencers.
Aside from this, Marcus is co-lead of the Java User Group Munich, as well as a member of the association of the German Java User Groups e.V. (iJUG) and the German craftsmanship community.
Marcus has worked on various Java-related projects since 2001, mainly in the financial and telecommunications industries. In 2007 he graduated with a degree in computer science from the Augsburg University of Applied Sciences in Germany. In 2008, Marcus successfully completed his Sun Certified Java Programmer certification (SCP 6.0), of which he is still very proud today.
For Marcus, programming is not just a job, but rather a meaningful, creative craft that he practices every day with joy and passion. Therefore he attaches great importance to the quality of his work. Marcus believes that while programmers can write 'quick and dirty' code, and deceive themselves that they are saving time and money, doing it properly is worth the initial time and effort. The code will then work reliably and consistently, require less maintenance, and prove to be more economical in the long run.
When he takes a break from Java, Marcus likes hiking in the Alps as well as backpacking. He also likes dancing, a good beer or wine, and enjoying all that his hometown, Munich, has to offer. He lives with his wife and baby son, within walking distance of the Oktoberfest, and yes, he owns Lederhosen.